Jason Frazier Named as New MindsEye President and CEO
Jason Frazier Named as New MindsEye President and CEO
Saint Louis, MO – October 10, 2018 -  MindsEye is thrilled to announce that Jason Frazier has been named the organization's new President and CEO.
A native to the area, Frazier was born in the Parkfield Terrace area of Cahokia and studied at Gibault Catholic High School before earning his Bachelor's in Mass Communication at Southern Illinois University Edwardsville. Frazier joined MindsEye in 2012 in a part-time position as the Evening Board Operator and soon moved into marketing and community outreach. His passion and level of commitment and focus was undeniable and in 2015, Frazier was named Development Director.
Frazier has not only flourished within the organization, he has helped guide MindsEye's mission and growth - ensuring that the organization is strong and prosperous for years to come.
"The MindsEye Governing Board has unanimously selected Jason Frazier to be our next President and CEO," says Debbie Andrews, Board President. "We are so thrilled to announce Jason's new position as President and CEO for MindsEye. Jason has been a guiding voice for the organization, and we look forward to his leadership over the coming years as he leads us into our next phase of growth."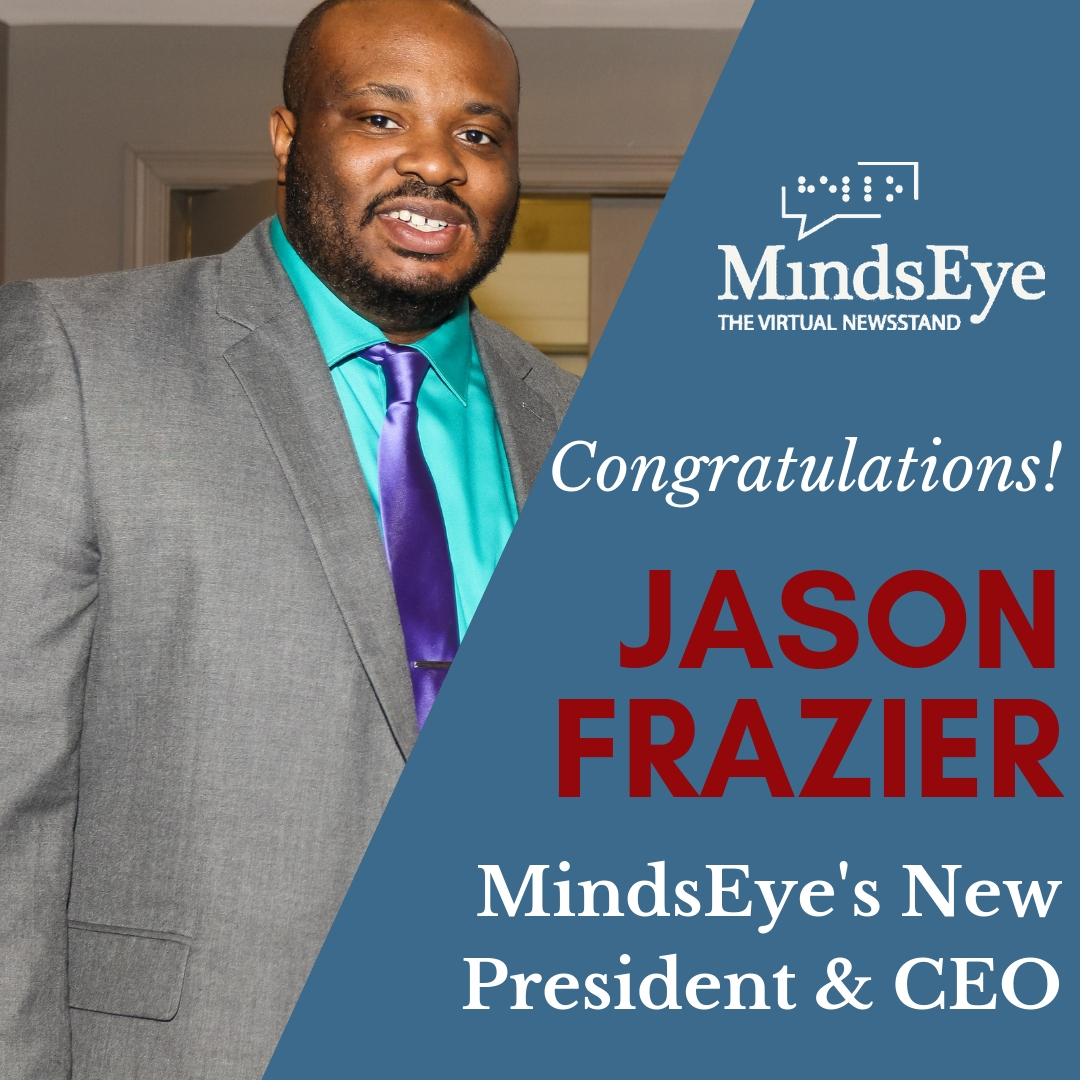 Frazier has a commitment to MindsEye's core values and mission that goes beyond most. Frazier's early years were shaped by the interactions and connection with his grandmother Essie, who was blind due to diabetic retinopathy and glaucoma and lived with his family until her passing when Frazier was ten. It was this history and his love of broadcasting that led him to MindsEye and on the path of creating more accessibility and connections for everyone living with visual-impairments in the community.
Frazier stated, "From my time starting here, MindsEye was simply a radio reading service, and throughout my time at MindsEye, we've grown to provide three full programs with Audio Description and Beepball in additional to Broadcasting. I'm honored and excited to lead this organization, continuing our mission to translate vision into audio, and see where we can further grow to benefit those in are community who live with visual-impairments."
Frazier now lives is Mascoutah, Illinois with his wife and two kids who can often be found at MindsEye events, helping with registration at the annual Soiree Pour la Vue, flipping bases for Beepball, selling raffle tickets, and supporting the organization whenever possible.  
MindsEye translates vision into audio and provides radio readings of local and national print media to the Greater Saint Louis Area in addition to serving the community through its Audio Description Program and Beepball.
For more information visit the website at mindseyeradio.org. MindsEye can also be reached at 618-394-6444.
Contact:
Rachel Melton
This email address is being protected from spambots. You need JavaScript enabled to view it.
9541 Church Circle Drive
Belleville, IL 62223-1000
Ph: 618-394-6449