MindsEye Beepball
Baseball With An Amazing Twist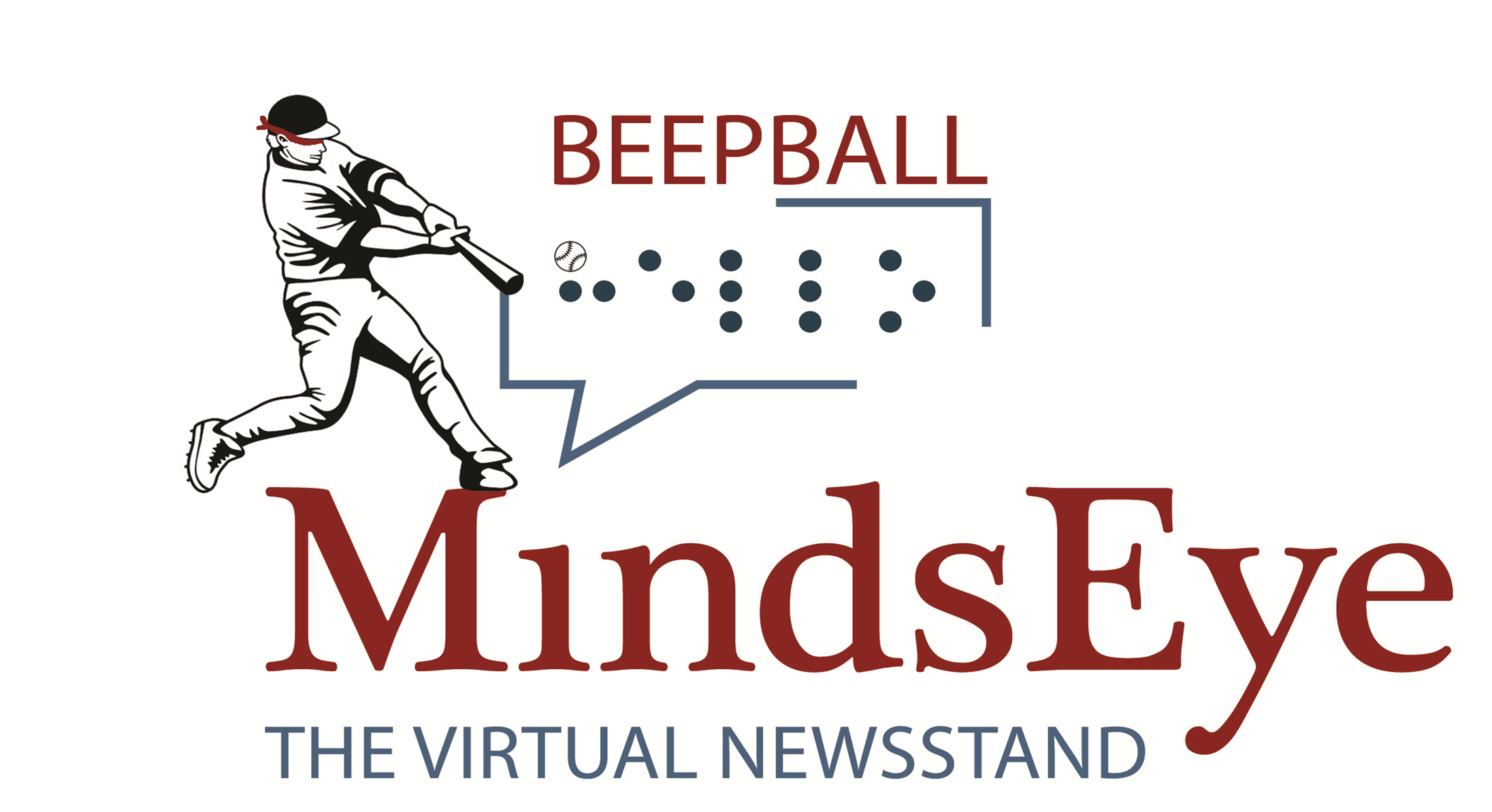 Described by blind athletes as "a dream come true," Beepball adds a spin on baseball that allows those who are legally blind to compete.
Players are guided by sound, not sight-- the sound of the beeping ball, buzzing bases, and cues from the pitcher. While the game provides unique opportunities for blind athletes, it also brings the blind community a step closer to ever sought-after acceptance and equality.
MindsEye's commitment to creating more of those moments into our community means that Beepball is no longer a one-day event!
This venture is designed to get EVERYONE in the game.
Beepball is…
…an educational service to create awareness of the visually-impaired community.
…an opportunity for team building and fun.
…a way to connect all citizens to Saint Louis's vibrant baseball community and heritage.
MindsEye Beepball Tournaments
MindsEye hosts two tournaments each year; The Ultimate Beepball Tournament and The Fall Classic Beepball Tournament
The Ultimate Beepball Tournament
In the Ultimate Beepball Tournament, everyone is blindfolded, except the pitcher and catcher. This unique sport brings together blind and sighted athletes in a day of fun!
The 13th Annual MindsEye Ultimate Beepball Championship Tournament Recap
On Saturday July 13, 2019 at 9am MindsEye kicked off their 13th Annual Ultimate Beepball Championship Tournament. A field of 16 teams competed to take home the title of Ultimate Beepball Champion!
The first games started out with little surprises. Defending 2018 champions Lighthouse won their first game against the Friends of MindsEye team 6-2. Longtime tournament team Cowboy Beepbop beat an upstart, free agents team Mascoutah Eye Care 6-3. Aetna and Heffernan battled out a close one with Aetna winning 4-2. Runners Up in 2018 Blind Luck won their first game against Hannigan Team Realty 7-3 and looked to get back to that championship game. The Stl. Redbirds won their first game against Starkloff 1-0 and the always dangerous Derminators beat KWYP-St Louis 1-0.
The second half of Pool Play, Lighthouse won 6-2 versus Team AMYX. The Friends of MindsEye recovered from their opening loss to beat STL Fitness 5-3. Cowboy Beepbop ran through the Bumblebeeps 5-1. That rag tag Mascoutah Eye Care team started to come together and beat the Hannigan Team Realty 2 team 6-2. Hannigan Team Realty 1 and Blind Luck both won their second games by scoring 7 runs against their opponents. KWYP-St. Louis won a close one against the Stl. Redbirds 2-1 and the Derminators scored the most runs of the day against Starkloff getting 13 runs on the board.
Getting into the Pool Championship games, where winners would advance to the semifinals, had a lot of close games and extra innings. Lighthouse came from 4 runs down to beat the Friends of MindsEye team in extra innings 6-5. Mascoutah Eye Care and Cowboy Beepbop played one of the closest games of the day in which Mascoutah Eye Care won 5-3. Blind Luck edged out Hannigan Team Realty 1 6-5 to secure their spot in the semifinals. One of the strangest turns of the day involved the Stl. Redbirds and KWYP-St. Louis. Both teams were tied in every Beepball tie breaker scenario. The teams came together with a compromise of joining forces to become one team. That decision turned out well for them as they beat one of the best teams of the day, the Derminators 6-5 to advance.
After a short break where we had MindsEye's best Beepball raffle yet, where winners won St. Louis Cardinals Champion Club tickets, St. Louis Blues Stanley Cup Championship wine/champagne, or a case of refreshing O'Fallon Brewery Daze of Summer Beer, we got the semi-final games underway.
The first matchup, which was the highest scoring game of the day, had the Mascoutah Eye Care team taking on defending champs, Lighthouse. Lighthouse attempted the comeback late in the game after falling behind by a few runs, but ultimately came up short. Mascoutah Eye Care ended up winning the game 12-10 to unseat the defending champs and the most decorated MindsEye Beepball team, Lighthouse. The second semifinal game saw the combined group of Stl. Redbirds and KWYP- St. Louis taking on Blind Luck. In a tight, low scoring game, the efforts of Stl. Redbirds/KWYP-St. Louis were enough to take the win and advance to the championship game 3-2.
The championship game turned out to be one of the closest, hardest fought, and longest games in MindsEye Beepball Tournament history. The game was low scoring through the first few innings, but both teams started putting up runs quickly. Going into the last inning with the Stl. Redbirds/KWYP up by a run, Mascoutah Eye Care was able to get it back and send it tied to extra innings. With some back and forth play, another run for both teams, we almost had a walk off hit by Mascoutah Eye Care, but batter Ashley Rench hit the ball with such power, the beeper inside the ball broke, and the fielders were unable to hear it, which by rule means the play is dead and must start over. Heartbroken, play continued and the inning ended still tied. Mascoutah Eye Care wasn't down for long, in the next inning batter John Cowens hit a pitch up the middle, past all the fielders to score the winning run.
Mascoutah Eye Care, a group of free agent players put together a few days before the tournament, a group who never met until they took the field for their first game at the beginning of the day, became your 2019 MindsEye Ultimate Beepball Champions. MVP honors went to John Cowens for his walk off hit, but also leading his team throughout the day with his exceptional play.
MindsEye is grateful to all teams, sponsors, spectators, and everyone involved to make this event possible. With all the support given, MindsEye is able to continue providing the St. Louis Community with programs like Beepball, Audio Description, and the Radio Reading Service. We thank you all and hope you will join us at our 2nd Annual MindsEye Fall Classic Beepball Tournament Sunday, October 13th 2019 at Sunset Hills Athletic Fields.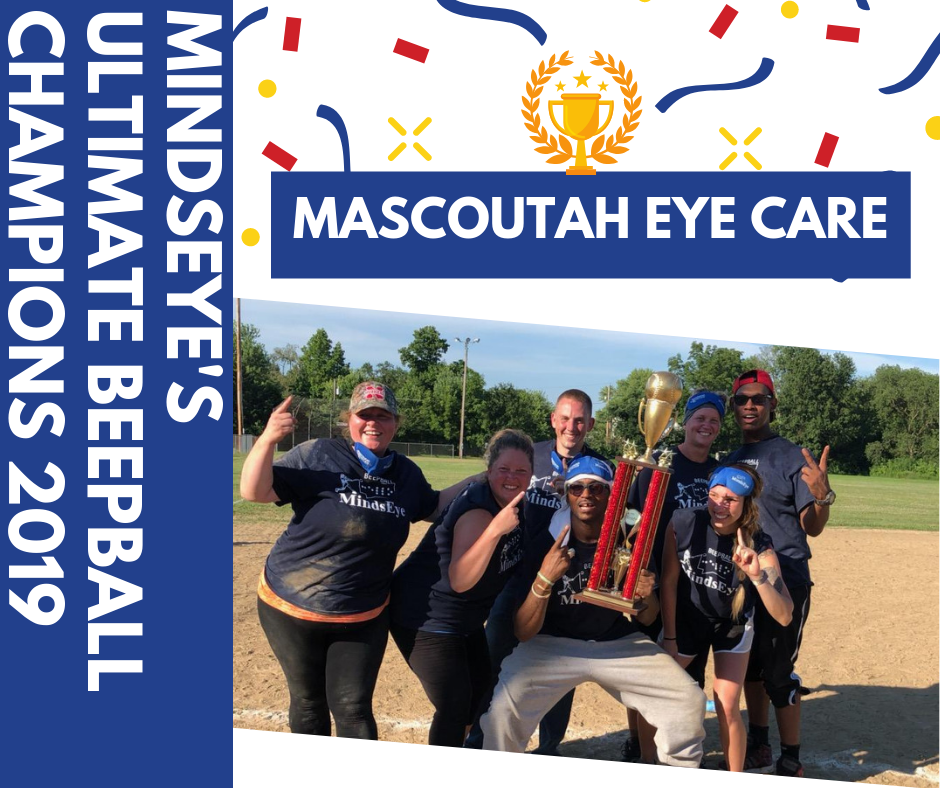 2019 Ultimate Beepball Champions - Mascoutah Eye Care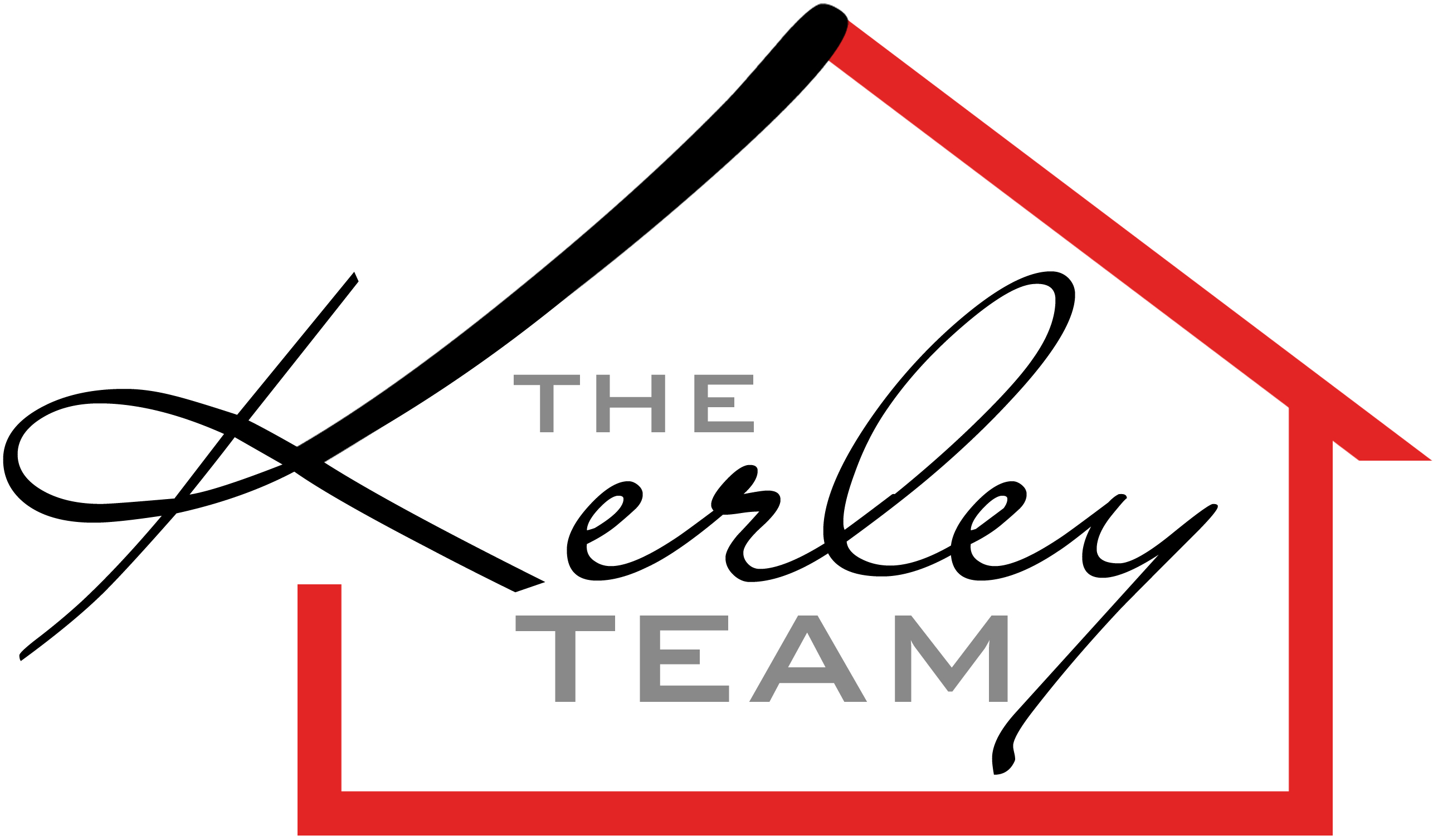 Check out the 2016, 2017, 2018, and 2019 Ultimate Beepball Tournament festivities on Facebook! 
The Fall Classic Beepball Tournament
The Fall Classic Beepball Tournament at Sunset Hills Athletic Fields Presented by Emerson was held on on Sunday, October 13th, 2019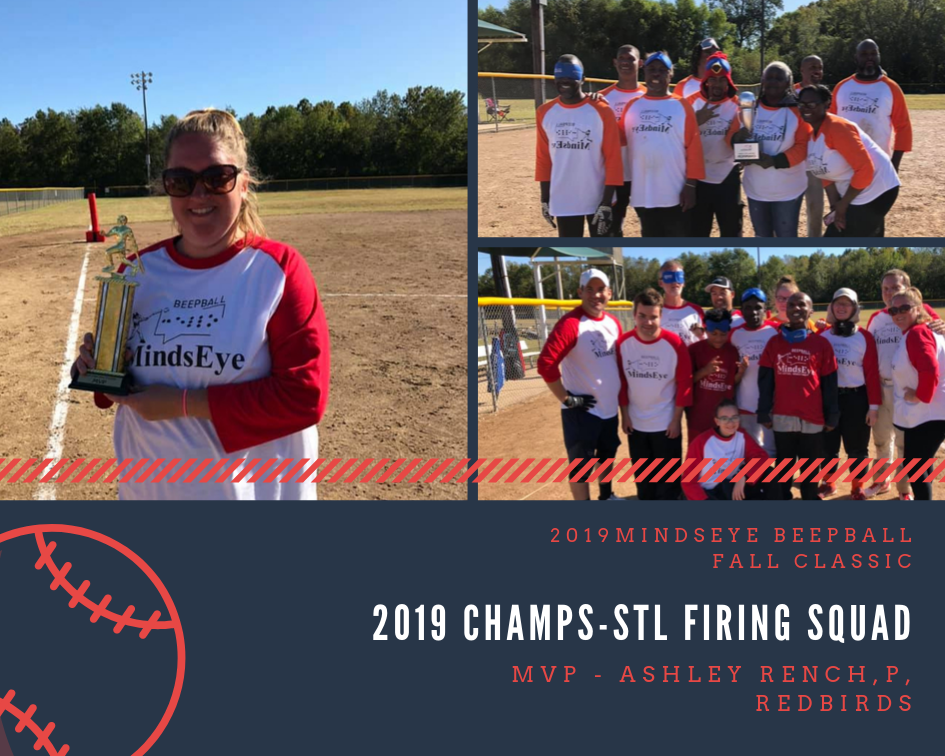 [photo collage] Team photos of the 2019 Stl. Firing Squad holding their championship trophy, the 2019 Stl. Redbirds, and Ashley Rench holding her gold MVP trophy 
Thank you to everyone who participated in the MindsEye Fall Classic BeepBall Tournament presented by Emerson
Congrats to the Stl Firing Squad for winning the tournament for the second year in a row. They defeated the Stl Redbirds and Tournament MVP pitcher, Ashley Rench 5-4.
Thanks to Beer Outside and Frankly Sausages Food Truck for all the great eats and drinks throughout the day and Sunset Hills Athletic Center for lending us their great fields!
Vision for the Game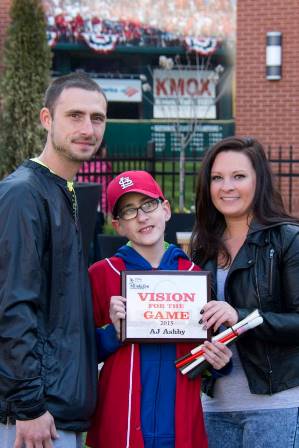 A.J. is MindsEye's "Ambassador of Beepball." Here he is pictured with his parents after receiving his 2015 Vision for the Game award. A.J. promoted beepball at his elementary school where MindsEye hosted a beepball demonstration to help A.J. share the sport with his sighted classmates.
Educational
MindsEye is committed to making Beepball educational by doing demonstrations inside schools and institutions in the St. Louis Metropolitan Area. Whether its visiting schools like River Bend Elementary School, Webster University and the Special School District of St. Louis County, MindsEye is committed to teaching about inclusivity, blindness*, sportsmanship, and collaborative teamwork.
MindsEye is also educating people at events! Just this past year we helped dozens of people at events like the Great Grilled Cheese Off 2018 and STL Square Off Festival 2018 learn about the great game of Beepball.
Team Building
Want to have a fun way to do some corporate team building? How about a fun game of Beepball between a group of friends? MindsEye is available to provide all the equipment and staff you need to play a game of Beepball at your next event!
Media
Beepball athletes and MindsEye's work demonstrates the importance of this unique sport to the local community while explaining some more specifics of game play. Here is a sample of past new coverage:
Contact Mike Curtis for more information about sponsorship and teams, and how to bring a Beepball Demo to your school or for your next  618-394-6450 or This email address is being protected from spambots. You need JavaScript enabled to view it..


Save
Save
Save
Save
Save
Save
Save
Save
Save
Save
Save
Save
Save
Save
Save
Save
Save
Save
Save
Save
Save
Save
Save
Save
Save
Save
Save
Save
Save
Save
Save
Save
Save
Save
Save
Save
Save
Save